THE
MAN
BEHIND
THE LENS//
Nick Hedges was born in Bromsgrove, Worcestershire, 1943. He studied photography at Birmingham College of Art 1965-1968, and as a final project he worked with Birmingham Housing Trust on an exhibition about the city's badly housed.
---
SHELTER
On leaving college he became a photographer and researcher for Shelter, National Campaign for the Homeless from 1968-1972.
An archive of his work for Shelter was acquired by National Media Museum in Bradford, and he prepared a touring exhibition for the Victoria and Albert Museum in 1974.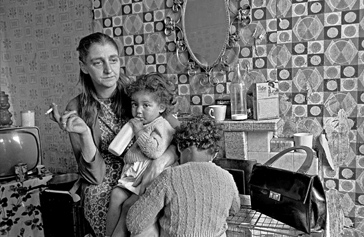 OTHER WORK
He worked as a freelance documentary photographer from 1972-1980 for Mencap, Disability Income Group, Population Countdown, BBC, Penguin Books and New Society. He was commissioned to make an exhibition 'Problem in the City' by the Royal Town Planning Institute that was shown at the ICA in 1976.
In the same year he was awarded an Arts Council Fellowship to make a documentary study of working lives in factories and steelworks in the West Midlands, this was completed in 1979. His photographs were exhibited at the Half Moon Gallery in London and by the British Council in 'Un certain Art Anglais' in Paris in 1979. The resulting book 'Born to Work' was published in 1982 by Pluto Press.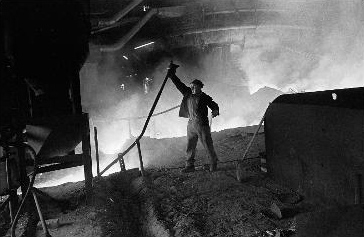 FAITH AND... FISH?
In 1979 he was commissioned by the Side Gallery, Newcastle upon Tyne to make a documentary study of the fishing industry based around North Shields Fish Quay on Tyneside.
He worked on an exhibition project 'I'm a Believer' photographing many different religions in Wolverhampton between 1976 and 1980.
OTHER ACHIEVEMENTS
His work was exhibited, and he was a guest speaker at the 2nd Latin American Colloquium of Photography in Mexico City, 1982.
He was a frequent contributor to Camerawork magazine, and was a member of the editorial board of Ten.8 magazine.
From 1980 to 2003 he was head of photography at West Midlands College of H.E. and the University of Wolverhampton.
MORE RECENTLY
In 2004 he donated his entire collection of Shelter negatives, contact sheets, and prints to The Library, Birmingham under the aegis of Peter James.
His exhibition 'Make Life Worth Living' was shown at the Science Museum in London between 2014-2015.
His work was exhibited and acquired by the Museo Reina Sofia in Madrid, 2015.
He has edited and produced a selection of his photographic work in book form, published by blurb.co.uk between 2012 and 2014.
In December 2016 he was a major contributor to the Channel 5 documentary "Britain's Slums 50 years on"